Forex Trading Software
Having the right CFD and Forex trading software will help ensure you have the best trading experience. Trading tools include trading platforms, charting and technical analysis tools, back-testing, automation with forex robots, and back-testing. Below We present our best tools for each category.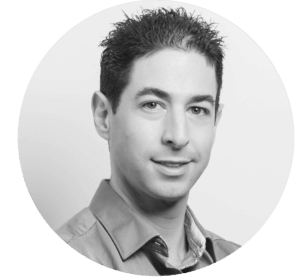 Written by
Justin Grossbard
With over 20 years investing experience and 10 years of trading, Justin co-founded Compare Forex Brokers in 2014. He has worked within the foreign exchange trading industry for several years and for several of the largest banks globally. He has an Honours in Commerce and Masters degree from Monash University. He also owns Innovate Online offering digital marketing services with over 20 employees.
Updated:

What Changed?
Each month we update average spreads data published by the brokers the retail brokers lose %


Fact Checked
We double-check broker fee details each month which is made possible through partner paid advertising. Learn more this here.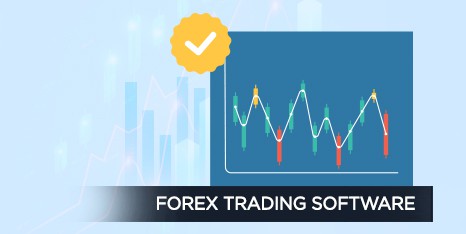 Our forex comparisons and broker reviews are reader supported and we may receive payment when you click on a link to a partner site.
Best Forex Trading Software in 2022
Here our our top software trading tools offered by the best forex brokers,
---
74.7% of retail investor accounts lose money when trading spread bets and CFDs with this provider
77% of retail investor accounts lose money when trading CFDs with IC Markets (EU) Ltd
77% of retail CFD accounts lose money
76.14% of retail investor accounts lose money when trading CFDs and Spread Betting with this provider
73% of retail CFD accounts lose money
Brokerage

EUR/USD Avg. Raw Spread
0.17
0.02
–
0.34
–
GBP/USD Avg. Raw Spread
0.59
0.23
–
0.43
–
AUD/USD Avg. Raw Spread
0.24
0.17
–
0.81
–
EUR/USD Standard Spread
0.75
0.62
0.80
1.52
0.80
EUR/USD Fixed Spreads
–


1.79
–
Commissions (USD Base)
$3.50
$3.50
–
$4.50
–
Minimum Deposit
$0
$0
$100
$0
$150
Funding Methods
16+
15+
3+
4+
6+
Markets and Instruments

Currency Pairs
62+
61+
71+
69+
84+
Cryptocurrency CFDs*
12+
18+
15+
30+
25+
Index CFDs
14+
16+
67+
24+
21+
Share CFDs
300+
100+
1816+
150+
4500+
Commodities CFD
9+
26+
22+
21+
46+
Stockbroking
–

–
–
–
Retail Max Leverage (Australia)
Major Pairs 30:1

Minor Pairs 20:1
Major Pairs 30:1

Minor Pairs 20:1
Major Pairs 30:1

Minor Pairs 20:1
Major Pairs 200:1
Major Pairs 30:1

Minor Pairs 20:1
Pro. Max Leverage (Australia)
500:1
500:1
300:1
–
400:1
Retail Max. Leverage (The United Kingdom)
Major Pairs 30:1

Minor Pairs 20:1
–
Major Pairs 30:1

Minor Pairs 20:1
Major Pairs 30:1

Minor Pairs 20:1
Major Pairs 30:1

Minor Pairs 20:1
Pro. Max. Leverage (The United Kingdom)
500:1
–
300:1
200:1
400:1
Retail Max. Leverage (Europe)
Major Pairs 30:1

Minor Pairs 20:1
Major Pairs 30:1

Minor Pairs 20:1
Major Pairs 30:1

Minor Pairs 20:1
Major Pairs 30:1

Minor Pairs 20:1
Major Pairs 30:1

Minor Pairs 20:1
Pro. Max. Leverage (Europe)
500:1
500:1
300:1
200:1
400:1
Retail Max. Leverage (Singapore)
–
–
Major Pairs 20:1
–
Major Pairs 20:1

Minor Pairs 10:1
Pro. Max. Leverage (Singapore)
–
–
–
–
50:1
Pro. Max. Leverage (Kenya)
–
–
–
–
–
Pro. Max. Leverage (South Africa)
–
–
–
200:1
–
Retail Max. Leverage (With offshore regulators)
200:1
500:1
300:1
200:1
–
*Cryptocurrency CFDs are not available to retail traders in the UK due to FCA regulations

Trading Platforms + Tools

Unique Feature
Smart Trader Tools
ECN pricing
Trade cannabis index
1,300,000 client accounts
Trade in 4,500 markets
Overall

Our Rating
9.33
8.50
5.83
7.46
6.83

Pepperstone – The Best For Range Of Trading Software Overall
With the regulated broker's extensive range of trading platforms, social-copy trading features and charting tools, Pepperstone offers the best software overall. In addition to a solid product software range, Pepperstone offers tight spreads, low commissions and fast execution which will help you make the most of the broker's software products. Pepperstone clients are offered three of the world's most popular third-party trading platforms, being MetaTrader 4 (MT4), MetaTrader 5 (MT5) and cTrader.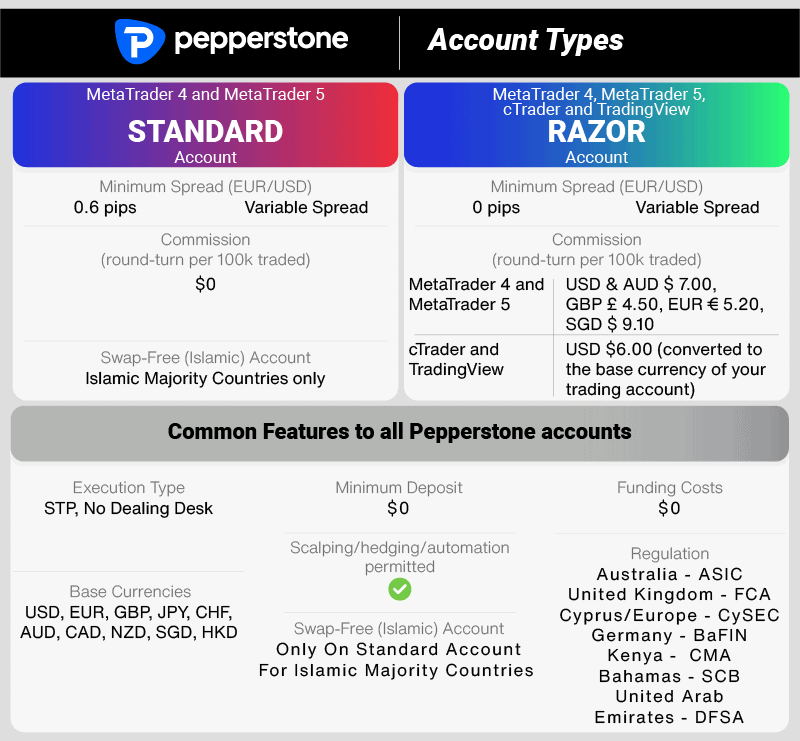 Pepperstone Offers Tight Spreads And Low Commission
When trading CFDs and forex with Pepperstone, traders can choose between a Standard Account, Razor Account and Swap-Free Account Type. Standard account types offer a simple fee structure, with no additional commission fees charged on top of the spread. Standard accounts are available with MT4 or MT5.
As a Razor Account holder, traders gain access to tight spreads while paying commission fees that vary between each trading platform, with MT4, MT5 and cTrader available.
MT4 & MT5:
Commission fees start from $3.50 per side per 100,000 units traded
cTrader & TradingView:
USD$6.00 converted to the base currency of your trading account)
Lastly, Swap-Free accounts are designed for Islamic traders who require an account type that complies with Sharia Law.
Pepperstone's Standard Account
Standard account types are an excellent choice for those new to currency trading, as traders can avoid complicated commission fee calculations and easily calculate potential profits and losses. While spreads are wider by at least 0.6 pips for each currency pair when compared to a Razor account, traders incur no additional commission fees on top of the spreads.
| | | | | | |
| --- | --- | --- | --- | --- | --- |
| | 0.75 | 0.85 | 1.40 | 1.43 | 1.07 |
| | 0.80 | 0.90 | 1.70 | 2.30 | 2.60 |
| | 1.90 | 2.00 | 2.40 | 2.30 | 2.50 |
| | 1.40 | 2.50 | 2.50 | 2.60 | 2.60 |
| | 1.30 | 1.50 | 1.50 | 1.90 | 1.80 |
| | 1.52 | 1.65 | 1.64 | 2.24 | 1.59 |
| | 1.30 | 1.70 | 2.10 | 1.70 | 2.10 |
| | 1.70 | 1.80 | 2.00 | 2.30 | 2.20 |
Data taken from broker website. Accurate as at 01/07/2022
Compare Standard Account Spreads
Pepperstone Razor Account
While standard accounts may suit beginner traders wanting a simple fee structure, Razor accounts give traders access to ultra-tight ECN-style spreads and are an excellent choice for experienced traders that day trade, scalper, trade with algorithms, professional traders, and active traders. Compared to other top forex brokers, Pepperstone provides some of the lowest spreads available to retail investor accounts, with spreads as low as 0.0 pips on major currency pairs.
| Razor Spread comparison | | | | | |
| --- | --- | --- | --- | --- | --- |
| | 0.17 | 0.24 | 0.40 | 0.43 | 0.47 |
| | 0.20 | 0.30 | 0.40 | 0.50 | 0.40 |
| | 0.20 | 0.20 | 0.40 | n/a | 0.30 |
| | 0.17 | 0.30 | 0.54 | 0.68 | N/A |
| | 0.20 | 0.40 | 0.50 | 0.70 | 0.70 |
| | 0.10 | 0.50 | 0.60 | 0.80 | 1.10 |
| | n/a | 0.50 | 0.60 | 0.40 | 0.30 |
Data taken from broker website. Accurate as at 01/07/2022
Compare Standard Account Spreads
The average spreads above are updated monthly and taken directly from the broker's website. As you can see, Pepperstone's Razor account is very competitive across all major currency pairs.
To achieve an ECN-like trading environment, orders are executed with no dealing desk (NDD) and straight-through-processing (STP). NDD and STP execution allow Pepperstone to connect traders with top-tier liquidity providers and some of the best prices available on the currency markets.
To keep your spreads tight and avoid artificially changing prices set by liquidity markets, Pepperstone charges Razor account holders a commission fee rather than wider spreads. Commission costs are:
MetaTrader 5 Razor Account Commission Fees
USD 3.50 sideways / 7.00 round-turn per standard lot (0.04 / 0.08 when trading 0.01 lots)
AUD 3.50 sideways / 7.00 round-turn per standard lot (0.04 / 0.08 when trading 0.01 lots)
EUR 2.61 sideways / 5.23 round-turn per standard lot (0.03 / 0.06 when trading 0.01 lots)
GBP 2.29 sideways / 4.59 round-turn per standard lot (0.02 / 0.05 when trading 0.01 lots)
MetaTrader 4 Razor Account Commission Fees
USD 3.76 sideways / 7.53 round-turn per standard lot (0.04 / 0.08 when trading 0.01 lots)
AUD 3.50 sideways / 7.00 round-turn per standard lot (0.04 / 0.08 when trading 0.01 lots)
EUR 2.61 sideways / 5.23 round-turn per standard lot (0.03 / 0.06 when trading 0.01 lots)
GBP 2.29 sideways / 4.59 round-turn per standard lot (0.02 / 0.05 when trading 0.01 lots)
cTrader Razor Account Commission Fees
Charge of 7 units per lot using the first currency of the pair (i.e. AUDUSD = AUD$7 per lot traded)
Commission costs compare well against other brokers. If you are trading many lots, commission fees, much like spreads, can add up.
Compare All Commission With All Brokers >>
Pepperstone Razor and Standard Account Features
Pepperstone accounts gain access to the same software features, with the only difference between account types being spreads and commission fees. Features provided to both Standard and Razor account types include:
Trading with minimum lots of 0.01 (trading with smaller lot sizes means greater flexibility with the size of your trades)
Leverage of 30:1 for major forex pairs and 20:1 for minor currency pairs with Pepperstone UK (FCA) and 500:1 with Pepperstone Australia (ASIC)
No minimum deposit, although the broker recommends an initial deposit of $200
Wide choice of base currencies: USD, EUR, AUD, GBP, JPY, CAD, CHF, NZD, SGD, and HKD
Hedging allowed
Automated trading with Expert Advisors (EAs)
Social-copy trading features
Access to over 700 CFD trading products, including hundreds of stocks and 12 cryptocurrency CFDs (excluding the UK)
Pepperstone Swap-free Islamic Account
An Islamic account is available with no swap fees (also known as overnight financing fees or holding fees). Available with both Standard and Razor account pricing, Islamic accounts are designed to be compliant with Sharia law, where interest-based swap fees are not permitted. Rather, Islamic account holders pay flat rate swap fees that vary between currency pairs. To sign up for a swap-free account, traders are required to contact Pepperstone's customer support team (proof of faith may be needed).
Fast Order Execution with Minimal Slippage
Pepperstone offers a fast execution speed of orders in less than ~30ms*. Quick execution with no delays is ideal for forex day trading, expert advisors and scalping as the chances of slippage due to execution lag are greatly reduced. The chart below shows the average speed of order executions, along with other forex brokers.
Fast market orders increase your chance of orders being filled at your requested size and price when the broker receives them. This means you are less likely to need to deal with partial fills, re-quotes or slippage. Pepperstone offers fast execution of limit orders with details of the results shown below.
Fast execution ensures help ensure that your buy-limit or sell-limit will transact when your price point is triggered. Limits are useful because it means you don't need to constantly monitor the process as it is automated.
Pepperstone Software Tools
Pepperstone Offers The Best Trading Platforms On The Market


MetaTrader 4

Pepperstone offers the most popular forex trading platform on the market, MetaTrader 4. When using MT4, traders gain access to advanced charting tools, algorithmic trading (expert advisors) plus a large marketplace and trading community. Main MT4 features include:
A user-friendly, customisable interface
Advanced charting tools for market research and technical analysis
Algorithmic trading with Expert Advisors and MQL4 programming language for automated forex trading
Single currency backtesting to optimise trading strategies
Risk and money management tools such as basic pending order types
Hedging
Autochartist: automatic market scanning software.
Smart Trader Tools: Add-on technical indicators and Expert Advisors
MT4 is available as a desktop trading platform compatible with Mac and Windows computers, a mobile app for Android and iOS devices, or a web trader platform accessible via any browser.
MetaTrader 5
MetaTrader 5 is the latest release from MetaQuotes with many improvements over MT4. MT5 is the best forex trading software and has been designed to offer a new experience with faster processing times and like MT4, MT5 is available as a desktop trading platform, trading apps or as web trader platform. MT5 allows hedged positions for both account types with a wider offering of pending order types than MT4. Exceptional features on MT5 provide a new trading experience with advanced tools and optimised trading. Users can easily customise their workspace while using the MQL5 programming language to automate trading with EAs. Key features and benefits of MetaTrader 5:
Extended charting tools: 38 inbuilt technical indicators and 21 timeframes
Optimised processing speeds for ultra-fast order execution and minimal slippage
Hedging and netting allowed
Built-in economic calendar
Automated trading: Expert Advisors with the MQL5 programming language
Multi-currency backtesting
Maximum of 500 total orders
Advanced pending orders
Compatible with Autochartist and Smart Trader Tools packages
If you are using MetaTrader 4 or 5, then you will get free access to Autochartist (automatic market scanning software) as well as Pepperstone's Smart Trader Tools. Smart Trader Tools are an add-on package available to download, consisting of 28 Expert Advisors and technical indicators to assist customers with developing automated and complex trading strategies.
cTrader
cTrader platform offers advanced trading capabilities with fast entry, execution, and coding customization. Pepperstone offers cTrader supplied with educational content and analysis tools to help traders for better decisions opportunities within foreign exchange markets, while the platforms advanced risk management features protect traders from negative balances. Created by Spotware, cTrader is suited for both beginner and advanced traders and is one of the popular platforms available to trade forex.
Pepperstone Offers A Top Range Of Social Trading Tools
MyFxBook AutoTrade:
AutoTrade is an automated account mirroring service built on the MyFxBook community platform. The platform allows you to copy the trades from some of the most successful forex trading systems available, with users gaining access to a community of over 90,000 forex traders. Not available in UK/Europe due to FCA regulations.
MetaTrader Trading Signals:
MetaTrader Trading Signals is MetaQuotes social-copy trading solution built into the MetaTrader trading platform. Due to the popularity of MetaTrader, users will get access to the large MetaTrader community and marketplace. The platform works by traders publicly providing trading strategies to others within the community, allowing others to monitor their signals and automatically duplicate their trades.
MirrorTrader: Mirror Trader offers one of the most sophisticated account mirroring solutions available. Developed by Tradency, the social-copy trading third party provides a key point of difference is the ability to follow other traders over a wide choice of timeframes and filters that allow you to find other traders signals to copy that best match your risk tolerance. Once you have found signals that best fit your requirements, your selections can be integrated into your trading account and trade executed with minimum effort. Not available in the UK and Europe due to FCA regulation.
DupliTrade:
DupliTrade allows traders to automate trading automatically with a popular trading strategy marketplace of signals. Signals from proprietary traders let traders expand their trading knowledge of financial markets and gain a better understanding of professional techniques. The social-copy trading platform allows you to take advantage of the expertise of other traders by duplicating their signals, with DupliTrade handpicking the best traders with a proven track record. Traders are required to make an initial minimum deposit of $5,000 USD to access the DupliTrade tool.
Pelican: Pelican is the only FCA regulated social trading platform in the market. It is slightly different from most other social trading platforms. While most other platforms allow you to copy signals from other traders, there doesn't tend to be much social about it as the experts are largely anonymous and there is little engagement with them. Pelican seeks to allow social trading interaction with traders you 'know'. The idea is you can ask questions from mentors and chat with friends within the platform. To help encourage better social interaction, Pelican also offers education tools so traders can learn together. Not available in Australia due to ASIC regulations.

View Pepperstone Review >>Visit Pepperstone >>
Our Rating
The overall rating is based on review by our experts

IC Markets – Low Fee MetaTrader 4 Forex Broker
As an IC Markets customer, traders can choose from a Raw Spread account, Standard Account and cTrader Account. Each account type charges different spreads and commissions and is available on specific trading platforms. When trading forex, traders can leverage positions by 500:1, regardless of account type.
Spreads and Commissions
Raw Spread Account:
Only available on MetaTrader 4 (MT4) or MetaTrader 5 (MT5), traders incurring commission fees of USD $3.5 per lot.
Standard Account:
Spreads from 1.0 pips with no commission fees, MT4 or MT5 only.
cTrader Account: Only available on the cTrader platform, commission fees are USD $3 per lot
CFD (Contract For Difference) Instruments Available To Trade
IC Market offers over 236 financial instruments available to trade with low spreads and commissions:
Forex: 60 currency pairs and leverage up to 500:1
Index CFDs:
17 major indices, spreads from 0.5 pips and leverage of up to 200:1
Commodity CFDs:
19 commodities such as energy and metals, with leverage up to 500:1
Stock CFDs:
120+ global stocks from the most popular companies
Bond CFDs:
6 bonds from around the world with up to 200:1 leverage
Crypto CFDs:
10 of the most popular cryptocurrencies and a leverage of up to 1:5
Futures CFDs:
4 global features available to trade with a leverage of up to 1:200

IC Markets Offers Great Trading Platforms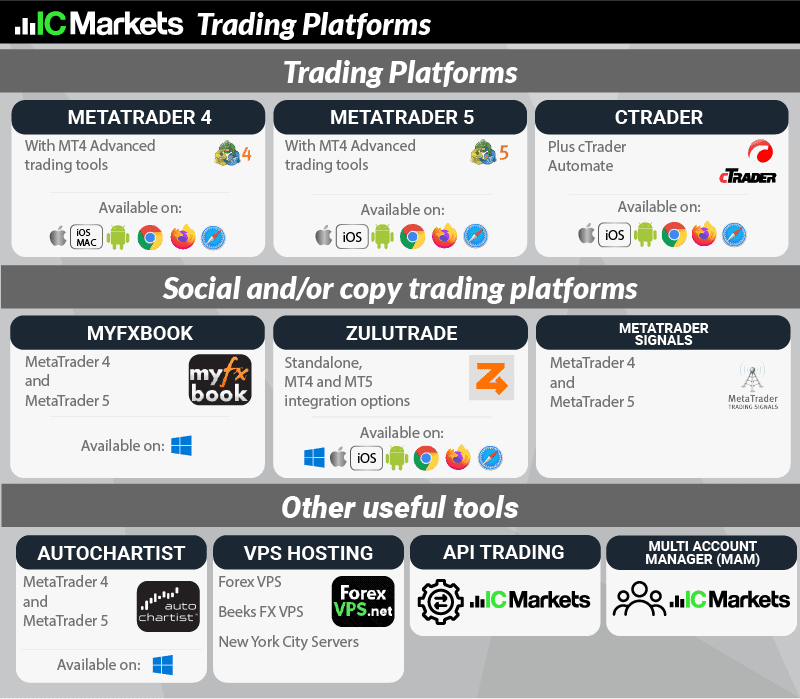 MetaTrader 4
Raw Account and Standard Account holders gain free access to the MetaTrader 4 trading platform and its extensive range of advanced trading tools.
Fast no dealing desk (NDD) order execution with latency averaging 1ms or less. Equinix servers are located in New York.
Sophisticated charting tools: 30 inbuilt technical indicators and 9 timeframes
Automated trading software: Expert advisors can be developed using the MQL4 programming language or downloaded from MetaTrader's marketplace
The single currency, single thread backtesting for Expert Advisors against historical data
Risk management tools and multiple order types (i.e. stop loss)
Available as a desktop trading platform on both Windows and Mac computers, mobile trading apps for iOS or Android devices, as well as a web trader platform online.


As well as the built-in charting and trading tools, MT4 users can download IC Markets Advanced Trading Tools. 20 different risk management, trade execution and analysis tools are available to enhance an MT4 users trading experience.
MetaTrader 5
The MetaTrader 5 platform is the latest MetaTrader software with certain improvements from its predecessor. Like MT4, traders can enjoy trading with no dealing desk, no prices requote, or any manipulation price on the IC Market trading platform. Improvements to the MetaTrader 5 platform include:
38 preinstalled technical indicators and 21 timeframes
Expert Advisors (MQL5)
Multi-currency, multi-thread backtesting
Advanced pending order types
cTrader
cTrader is a platform known for its high-speed execution of orders with the trading platform providing a unique design and smooth user interface experience. cTrader has no restrictions on trading with some of the best trading conditions for scalping and high-frequency trading. Only available through an IC Markets cTrader account type.
IC Markets Top Social-Copy Trading Tools
MyFxBook AutoTrade
AutoTrade is available to use for all IC Market clients with a next-generation copy trading system by Myfxbook. AutoTrade allows you to copy trades from any system directly into your MetaTrader 4 account. Myfxbook AutoTrade is available only for live trading with full control of your account and no hidden fees.

ZuluTrade
ZuluTrade is an ideal solution for traders who cannot commit time to build their own strategies. ZuluTrade clients can follow trading from 100,000 Zulu traders from 192 countries. The advanced copy trading platform offers features such as:
Zulu Rank: a sophisticated algorithmic signal provider to analyse overall performance
Zulu Guard: a highly advanced account protection feature that monitors trading performance 24/7
A simulation tool to test different strategies on a demo account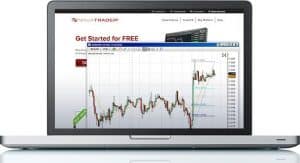 FXCM – Good for NinjaTrader Trading Platform
NinjaTrader is an advanced trading platform with sophisticated analytical and automated charting capabilities. The software platform offers pre-loaded chart styles with hundreds of technical indicators, with a collection of artful drawing tools for charts.
When using NinjaTrader, FXCM customers can load multiple time-frames and markets on a single chart, designed to not miss any market patterns. Traders can configure hundreds of indicators quickly and easily making for an efficient trading environment.
Place and modify existing orders directly from the chart window
Customisable hotkeys to place and modify orders seamlessly and directly from the pricing chart
Very-low latency order submission and modification
Arrange windows across multiple monitors
Analyse crypto markets for free
Automated Trading
The NinjaTrader platform provides a range of trading tools for suiting all levels of experience from beginner to advanced, with no auto trading programming knowledge required.
Algorithmic strategies can be written using the C# programming language, while Automated Trade Management (ATM) strategies allow users to automate order and risk management. Multiple ATM strategies are available for use in risk management or automated trade execution and traders can fully customise trailing stops quickly in fractions of a second. To assess and optimise automated trading strategies, you can utilise the NinjaTraders backtesting suite.
Another tool to save time spent analysing markets looking for trading opportunities is the brokers Market Analyser tool that traders can program to scan different financial markets, with advanced alerts notifying traders of market movements.
View FXCM Review >>Visit FXCM >>
*Your capital is at risk '67% of retail CFD accounts lose money'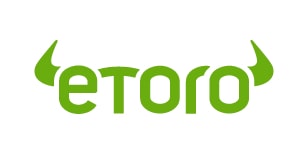 eToro – Best Social Forex Trading Platform

eToro is an established and popular social trading network with traders from over 140 different countries. Within the social trading network, eToro users can copy the trades of 'Popular Investors', with more than offers 2,000 financial instruments offered by eToro across asset classes such as Forex, Crypto, Stocks, and more.
eToro's proprietary platform provides an easy-to-use experience with a clean design and user interface. The social trading platform connects traders together by sharing ideas, trading decisions, and strategies on a news feed.

With eToro's CopyTrader system, users can start trading by copying and executing the trading strategies of seasoned investors, known as Popular Investors. It is easy to find popular investors to follow and copy, with users able to view their trading history and success, risk profile and location.
As well as copying individual popular investors, eToro customers can utilise the brokers CopyPortfolio feature where traders can invest in bundles of financial instruments. Two types of portfolios are available:
Top Trader Portfolios:
A portfolio consisting of the best performing traders on eToro
Market Portfolios:
Bundles of products including Share CFDs, Commodities and Exchange-Traded-Funds (ETFs)

*Your capital is at risk '68% of retail CFD accounts lose money'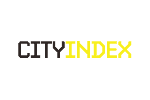 City Index – Good Trading Platform for Beginner Forex Traders
While City Index promotes platforms such as AT Pro and cTrader to experienced, active traders, the broker's proprietary web trader and mobile apps are easy-to-use and an excellent choice for beginner traders. When trading with City Index, customers gain access to thousands of financial instruments, ranging from forex markets to Cryptocurrency markets.


Web Trader
The City Index web trader platform is powered by HTML5 technology and offers a user-friendly, yet customisable workspace for those new to trading.
To minimise the high risk of forex trading, customers can utilise the web trader platforms trading and risk management tools. Real-time calculators keep you updated on margin requirements, while order types allow you to predefine order entry and exit prices. Order types available to City Index clients include:
Stop-loss orders
Limit orders
Trailing stops
One cancels the other (OCO)
If-done orders
Guaranteed stop-loss orders (GSLO costs apply)

Mobile Apps
Mobile trading apps are available for iOS and Android devices. Both versions of the City Index mobile app allow users to trade efficiently on the go and across multiple devices. To help smartphone traders stay up to date with financial markets, the mobile app offers a watchlist feature along with real-time Reuters news and an economic calendar.
iOS and Android apps allow traders to perform technical analysis from their devices. With multiple timeframes, chart styles and over 60 technical indicators, analysis is user-friendly from your mobile phone. As with the web trader platform, a range of basic and advanced order types are available to manage risk, including GSLOs.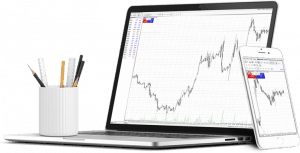 ThinkMarkets – Best For Expert Advisor Backtesting

ThinkMarkets is the best broker for backtesting and Expert Advisors. The broker offers both MT4 and MT5, with EA backtesting abilities varying between the two MetaQuotes trading platforms. Unlike some brokers, ThinkMarkets enforces no restrictions on Expert Advisors, forex robots and indicators running at the same time, with easy integration of EAs into the trading platforms. While EAs are available on both MT4 and MT5, MetaTrader 5 is the recommended platform for algorithmic trading strategies and backtesting.
MT4: MQL4 programming language. A single thread, single currency backtesting
MT5: MQL5 programming language. Multi-thread, multi-currency backtesting
Backtesting algorithmic trading strategies on the MetaTrader platforms allow traders to test and optimise their EAs against historical data. As a ThinkMarkets customer, traders can develop or download Expert Advisors and custom technical indicators for the financial assets:
Forex
Indices
Metals
Cryptocurrency
Shares CFD
CFD Futures
Commodities
View ThinkMarkets Review >>Visit ThinkMarkets >>
*Your capital is at risk '71.89% of retail CFD accounts lose money'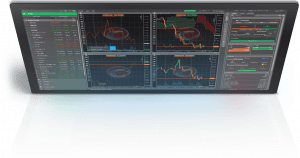 FXPro – Top Broker With cTrader Trade & cTrader Automate

FxPro offers the cTrader which is a powerful forex trading platform with a friendly design. To access the trading software, the web platform provides scalpers quick trade execution within a modern, sleek interface. When analysing markets and trading opportunities, cTrader users can stay up to date with financial events via an economic calendar, while using the advanced charting tools to conduct technical analysis. Additionally, the cTrader platform is known for its features and tools as:
70 pre-installed indicators and the ability to customize indicators with prices, levels, and more
Algorithmic trading with cBot trading robots and the #C programming language
Tight spreads and no dealing desk execution
No requotes with 0.37 average variable spreads for the EUR/USD currency pair
Up to 7,000 orders executed per second
Regulated by five major financial authorities
cTrader charting tools include multiple timeframes at different intervals with advanced layouts. Traders are available to choose from more than 50 templates and customize your trading workspace depending on your personal trading preferences. In regards to market access, more than 260 CFD instruments are available with customers able to trade Forex, Indice, Energy and Metal asset classes.
*Your capital is at risk '84.67% of retail CFD accounts lose money'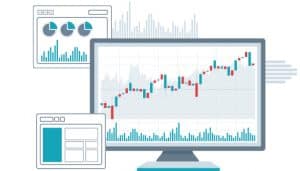 Axi – The Best Technical Analysis Tools and AutoChartist
Axi (formerly Axitrader) offers access to multiple trading platforms designed to provide a seamless trading experience. Popular platforms as MetaTrader 4 and MetaTrader 5 provide users with sophisticated analysis tools to unlock unlimited trading possibilities. To ensure trading strategies are carried out efficiently, order execution speeds are fast on over 150 financial instruments.
Axi offers free access to social-copy trading tools as Myfxbook AutoTrade. Myfxbook AutoTrade allows you to track the performance of top traders and copy their trading strategies, with access to past historical data to study market movements and improve your trading performance.
To automate market analysis, Autochartist can automatically seek out trading opportunities through real-time market scanning software, alerting traders via notifications. Additionally, algorithmic trading features such as Expert Advisors and technical indicators can easily be integrated into MetaTrader platforms. To access Axi's wide range of technical analysis and charting tools, MT4 and MT5 can be downloaded as a desktop platform or tablet and mobile apps.
View Axi Review >>Visit Axi >>
Markets.com Has The Best Range of Platforms
Markets.com is a great brokerage that has a unique offering of software and platforms for you to choose from, ranging from CFD trading to long-term stock investment trading. They have some of the most competitive spreads on a range of CFD products including forex, commodities, cryptocurrencies, and more. Managing risk is one of the most important aspects of trading, so Markets.com provides a range of sentimental, fundamental, and technical tools to help protect your portfolio.
Spreads
Markets.com makes trading easy with only one account offering with no commission. This makes calculating trading costs simple as the commissions have been built into the spread costs. While Markets.com does not display their average spreads on their website like other brokers, our team has investigated and found out their minimum spreads for major forex pairs as listed below.
Platforms
Markets.com offers the best range of platforms out of any of the brokers on this list. First, is their staple Marketsx platform offering CFD trading in the full range of markets with their low spreads. In addition to Marketsx, they also offer both MetaTrader 4 & MetaTrader 5 for more advanced functionality and a better trading experience.
Marketsx
Marketsx is Markets.com's proprietary platform that comes with every account. This is an exclusive platform that comes with its full suite of risk management and trading tools. We have listed some of the features of Marketsx below.
One-click trading to take positions while looking at the chart for ease of use
14 different sentimental, technical, and fundamental analysis tools to help get a good read of the market direction
Trade on the go with their mobile app available for IOS and Android devices
MT4 & MT5
Markets.com also offers the world's more popular trading platforms in MetaTrader 4 & 5. Both of these platforms come with an array of different features including technical analysis tools, algorithmic trading capabilities, and advanced order types. Both platforms come included with Markets.com assurance of some of the best order execution rates on the market.


Trading tools
One of the main features of trading is understanding the ins and outs of the market. Markets.com offers a range of trading tools to help you make the big decisions when it matters. Some of these tools are listed below.

Sentiment tools
Blogger's opinions – choose from the opinions of over 50,000 bloggers to get a better idea of trader's sentiments on the market
Hedge funds investment confidence – Monitor the sentiment from leading hedge funds using data from the SEC measuring the popularity of a stock
Trading analyst recommendations – Search through the recommendations of top wall street analysts all with star ratings to show their popularity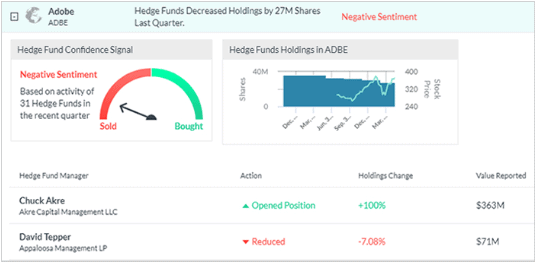 Technical Analysis tools
Related Instruments – Diversify your portfolio with related instruments to get a better understanding of what assets might affect your trade
Advanced charting – This is a charting package with multiple indicators and oscillators for position tracking and forecasting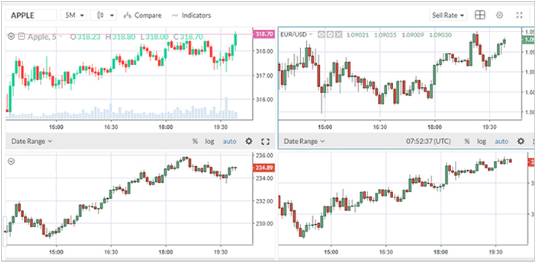 Fundamental Tools
Financial Commentary – Information is king with rolling updates on international developments, central bank statements, and much more
Advanced Alerts – Customise a range of different alerts via email, text, or platform-based notifications
Thomson Reuters Stock Report – A downloadable report available on the Marketsx platform with leading insight into the company-specific analysis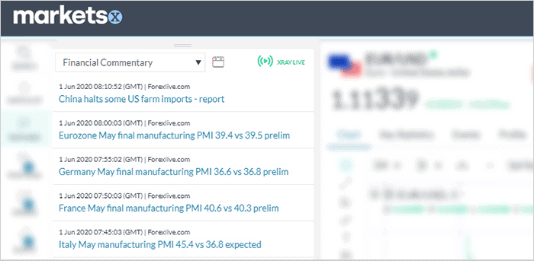 Can you get rich by trading forex?

Yes, forex trading is one of the fastest ways to get rich, but at the same time, it's also the fastest way to lose all your money if you're an inexperienced trader. Trading forex successfully comes down to having a proven edge in the market, the discipline to follow your trading plan and sound risk management strategies.
If you're a beginner trader check our Top 10 Features To Consider When Choosing A Forex Broker.
Can you make money copying on eToro?

Yes, beginner traders and professional traders can make money on eToro by copying other traders. At copy trading platforms such as eToro, one can copy up to 100 trades simultaneously. eToro minimum deposit is also extremely low (USD 50) making it fairly accessible.
If you want to learn more about eToro social trading networks check our full eToro Review.
What is the best trading platform for Forex?

MetaTrader 4 (MT4) by MetaQuotes Software is one of the best forex trading platforms. Released in 2005, the MT4 platform includes a generous number of technical tools, 3 different chart types, 9 different time frames, automated trading (Expert Advisors EAs) and so much more. The upgraded MetaTrader 5 (MT5) seeks to replace the MT4 platform by providing access to more markets, depth of market and more technical indicators.
Overall Best Broker and Trading Software
When comparing the top broker's spreads, fees and trading platform software, Pepperstone is one of the best forex brokers overall with the best forex platforms offerings. As well as a choice of account types (Standard vs Razor), trading platforms (MT4, MT5 and cTrader) and social-copy trading tools, customers can download additional software add-ons to gain access to additional technical indicators and expert advisors. Before investors start trading with real money, a Pepperstone demo account can be opened with a virtual balance provided to practise forex trading.
View Pepperstone Review >>Visit Pepperstone >>
Please note, this software comparison focuses on forex and CFD trading platform suitable for short term trading with leverage. If you are interested in medium to long term trading involving the buying and selling of shares then it's recommended to view this Stock Trading app guide created by Young And The Invested.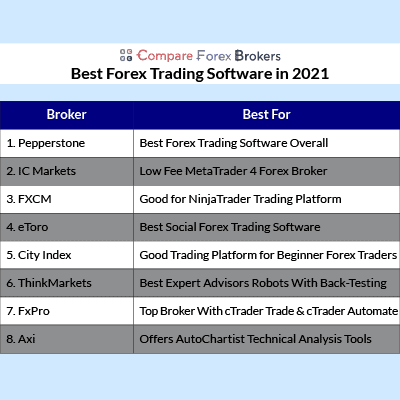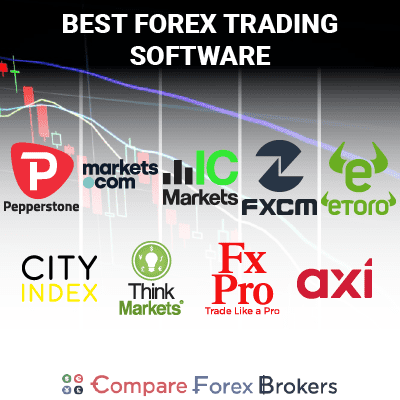 About the author:
Justin Grossbard

With over 20 years investing experience and 10 years of trading, Justin co-founded Compare Forex Brokers in 2014. He has worked within the foreign exchange trading industry for several years and for several of the largest banks globally. He has an Honours in Commerce and Masters degree from Monash University. He also owns Innovate Online offering digital marketing services with over 20 employees.

Back to top
We use cookies to ensure you get the best experience on our website. By continuing to browse you accept our use of cookies.
Best Forex Trading Platforms for Pc
Source: https://www.compareforexbrokers.com/best-forex-trading-platform/software/
Posted by: derivbinary.com